Emar and I woke up ermmm... a bit late. I took a power nap at 3:00 am, which should only last for 5 minutes, but the thing is, I was so tired the whole day that I so wanted to sleep. I woke up at 4:00 am with Mom's nagging voice, "
Kala ko ba
5 am
flight nyo
?
Alas quatro na
!"
Oh shit.
We didn't take a bath anymore. So what if our hair looks disastrous? I'd rather have people staring at me than miss a flight. And I took a bath before packing my things last night and my room was all air-conditioned, thus I didn't sweat even a little.
And honestly, not being defensive or anything, my hair still looks great even after a whole day's work. It's even better when I get out of bed. Really.
We arrived at the airport, where Erick and everybody else has been waiting for us, at around 4:15 am. Thing is, I have Erick's and Garet's tickets so they can't enter Terminal 2 without me. And we need to have this shared check-in thingie because we have with us the souvenir programs for the congress, the weight of which will be distributed among our allowed individual check-in baggage weight.
As we were walking inside the airport complex, we started hearing the announcement, "Last call for the last 6 passengers of PR809, please proceed to Gate 1 immediately."
Double shit. That's us. The 6 of us.
We ran from one end of the airport to the other. When I reached the tube tunnel I slowed down a bit because I didn't want to pant in front of the other passengers. I entered the plane and people were looking at me as if I am up a guillotine. It was as if something is playing in their minds. Something like, "
Punyeta, ang tagal kasi eh
. " Yeah, you know the feeling.
I sat between two women, one sleeping even before the plane took off and another one who happens to be a balik-bayan from Canada talking to her aunt beside her. I sort of know her aunt. She looked really familiar. But let's not get to that.
The flight was an hour and a half long, but I didn't get any sleep. I don't normally sleep when I am aboard an airplane, so I just watched the people around and made comments in my head. In short,
okrayan ito
.
But then I figured, it wouldn't be fun because I have no one to share my comments with so I just pulled out my hott pink iPod from my really nice hott pink bag, and I ate airplane food.
I mean, OK, you know how airplane food is like when you're in a domestic flight. It's just crackers or bread and juice, unlike international flights that serve full meals. Oh well, I ate my food anyway. At the same time I was thinking about what Peter told me about Davao. According to him, the first thing I will smell as I land on Davao is durian. He said it's like all over the place. It's like, the air is made up of durian.
As soon as I got off the plane, I started sniffing. I can't smell it, Peter. No hint of durians. But when I got out of the airport, it hits me.
After a while, I noticed the smell is slowly fading. We were probably getting immuned.
While our hotel service was loading our stuff into the van, we started taking our first pictures of Davao.
I mean, our first pictures IN Davao.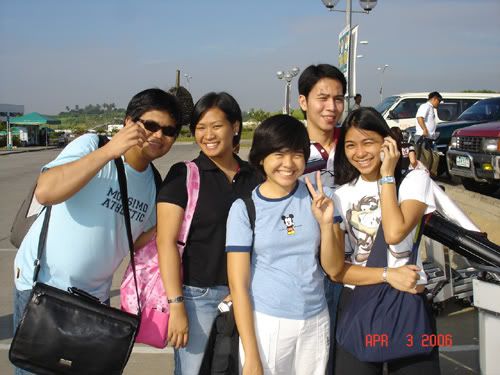 The sun was scorging hot. I can feel it penetrating my skin and bones. We look glowing in the pictures. But who cares about the hot Davao sun? Not me.



We rode along the streets of Davao until we reached downtown. Few turns and we reached the place that will serve as our home for the next six days: the Crown Regency Residences.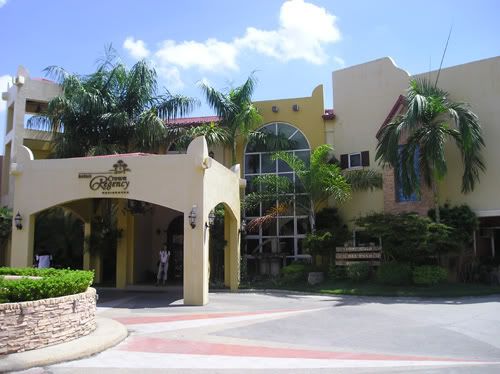 We entered the lobby, and I was sort of amazed. It was really a nice place. It's not a hotel, but it's really very grand for a hotel alternative. The lobby was Muslim Mindanao inspired.



Anyway, we walked inside towards our room (we thought it was just a room), only to find out that they have Mexican-inspired villas. They were houses with two floors.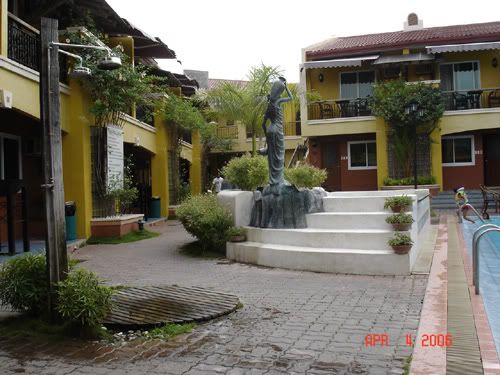 Inside the compound was this fifties-inspired cafeteria called the Fab Fifties, a spa, a jacuzzi, and a really nice swimming pool.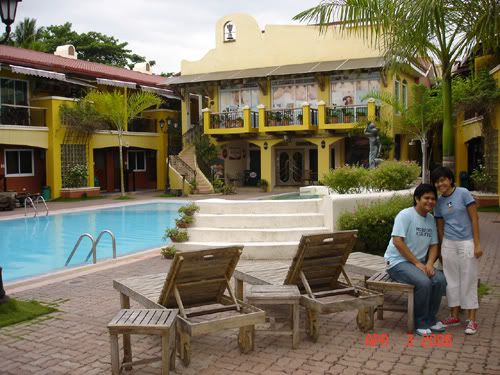 On the way to our villa, we passed by this narrow walk, which I think is really Mexican-ish.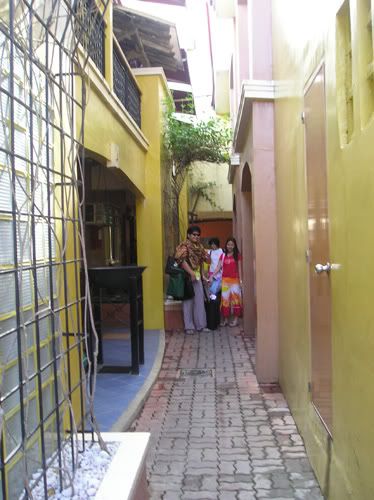 Then we reached Number 117, our house (I took this pic during our first night.)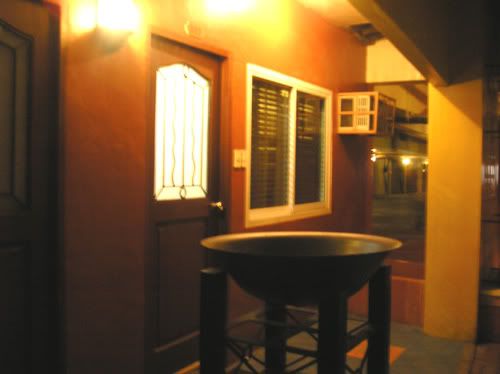 The flight of stairs was the first to greet us as we opened our door.



To the right of the stairs was a really nice makes-you-feel-you're-home living room with a huge sofa that goes with a pull-out bed (Another night pic.)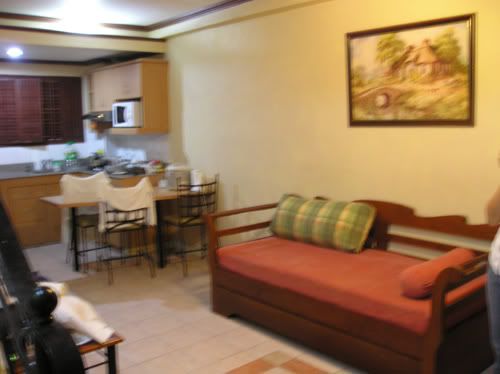 The room goes all the way to the back where the kitchen and the toilet can be found. Behind the back door is a parking space for us.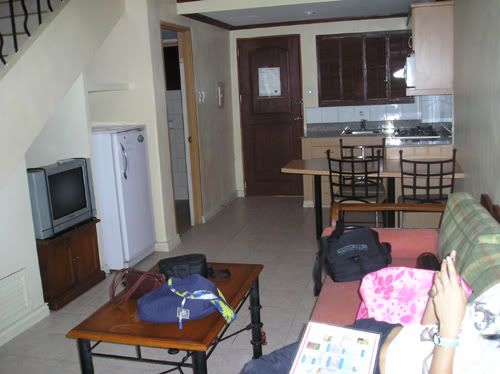 The house has really nice Mexican windows with wooden blinds that you can pull down.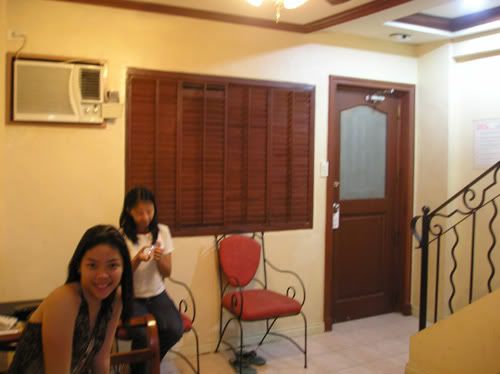 Upstairs, two bedrooms can be found, both sharing one toilet and bath. Em and I chose the master's bedroom because it has a TV. Teehee!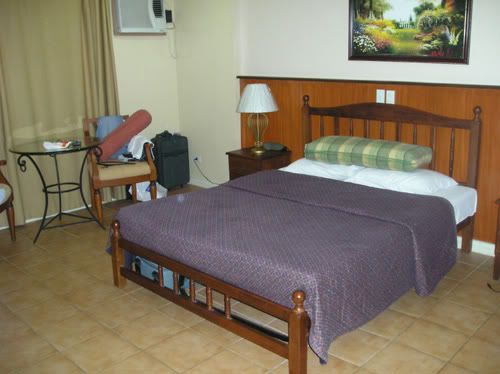 Chris, Garet, Danmar, and Erick were supposed to stay in the other room with two single beds, each one having a pull-out bed.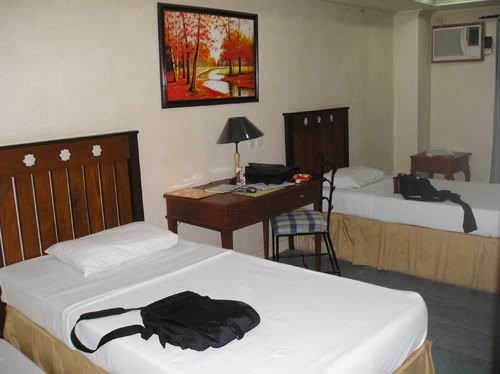 But then Erick and Danmar chose to sleep downstairs on the comfy sofa and its pull-out bed because they also want the TV.

Having inspected the whole house, we all posed in the living room for our "family" picture.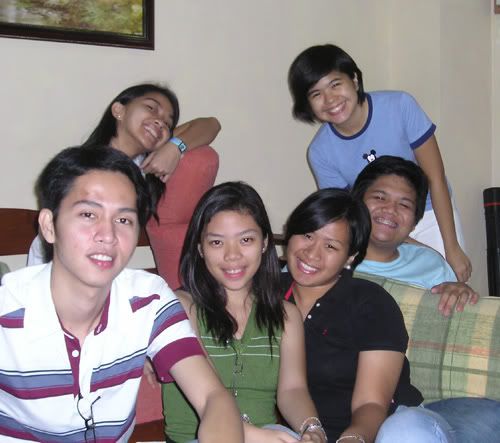 We unpacked our bags and watched TV and then ate our brunch at the Fab Fifties cafeteria. We talked about having to cook our dinners since it is the only meal not covered by the Chemistry Congress. And so we decided to hit SM Davao as soon as we finished our meal to buy some groceries.

While waiting for our taxi to arrive, we took photos again at the lobby.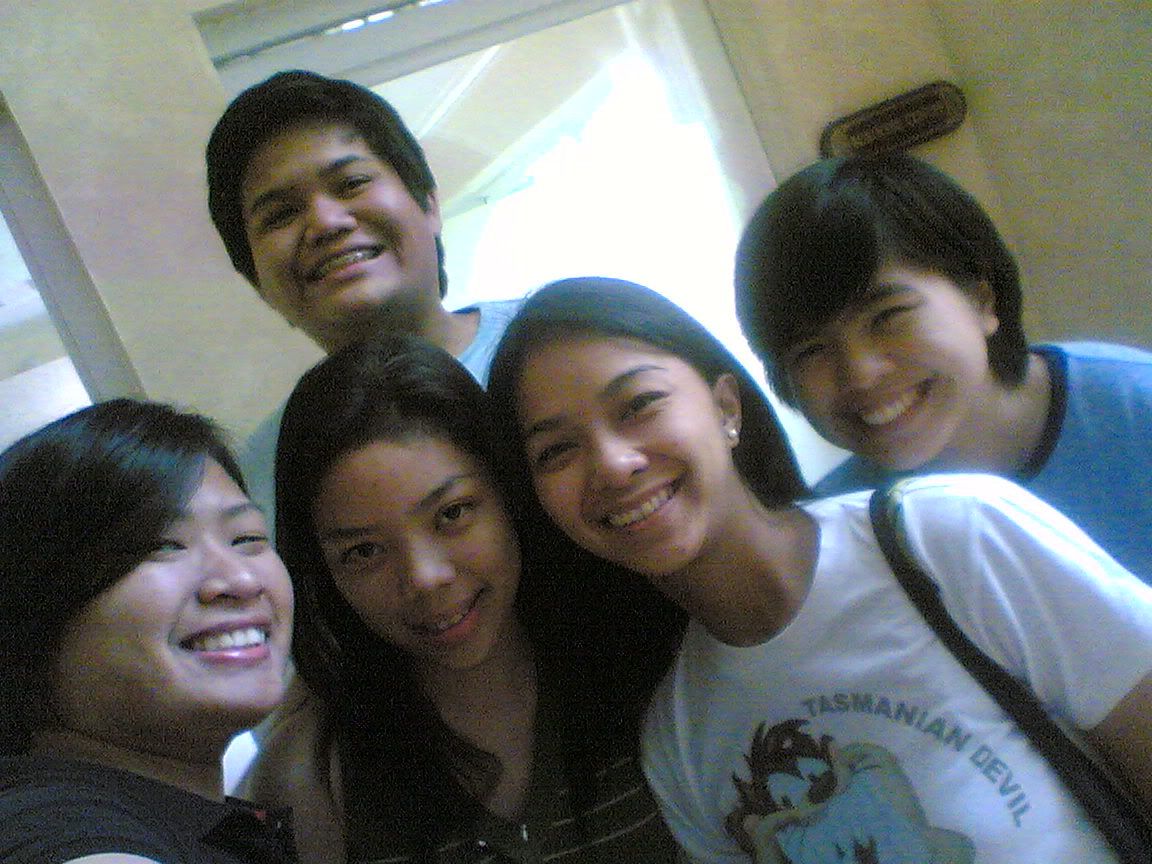 And also outside, where everyone imitated this school friend of ours, and posed like him with his angas look. I didn't want to be like him though, so I made my own pa-cute pose.



We met up with Kelvin, who was staying in an inn near Ateneo de Davao (where the 21st PCC was held). We shopped around for our "household" and personal needs. Gosh, it's so nice to type "household."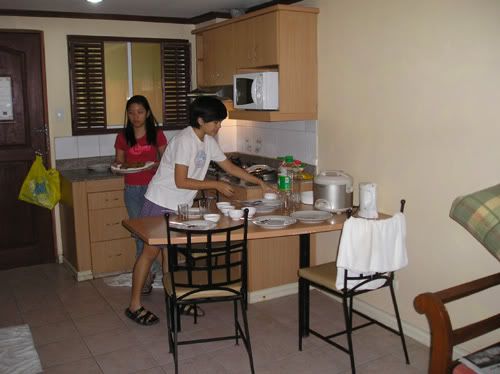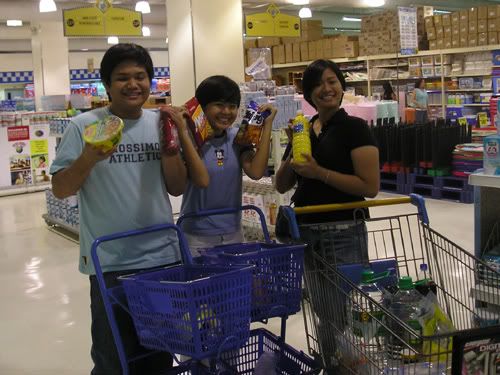 We went home at 7 pm to just chill in the house.
We started tinkering the two laptops Erick and Chris brought for our Environmental Chemistry take home exam. It is due tomorrow at 4 pm, and we are really very thankful to have Prue in Manila. She will print all our answers, and pass them to Dr. Sison.
Agony is still not yet over. Until this Envi exam is finished, none of us can relax and enjoy Davao. We will take turns doing our exams tonight.
Dang. What a way to celebrate our first night in Davao.
Scratch that.
Bad luck can hit you ALL THE TIME.
This morning I woke up because I have 5 missed calls. 5 missed calls from only one person. Then it all came to me that last night I placed my phone under my pillow while it was still in vibrating mode. When the calls were made this morning, my phone started vibrating like crazy, which at the start actually feels like getting a massage. But getting to much vibration from 5 calls is like having your head placed in an ultrasonic bath. And when you check your brain, it feels like it has been pureed by an osterizer.
See, you don't have to be scared that I might gobsmack you if you wake me in the morning, especially if it's an emergency. But not answering twice or even thrice would give you a hint that I am absolutely asleep. At least now you know how to wake me up, make me feel like you're in an emergency, and then give me a total "good morning" headache.
Am I making sense here?
Anyway, I answered the 6th call for courtesy, and found that it was my friend asking me to go somewhere early in the morning because she needed company. I said I can't go because I am having a headache and I need to go out too to give a talk in a retreat. She said okay, and she was sorry to wake me up. Well, it's kinda late for that.
I convinced myself to go the retreat even if it was still early for my scheduled talk. I got up and started making phone calls how to get to the venue if I will just commute.
The route isn't really complicated, just two tricycles and one jeepney ride. I just have to look for the landmark my friend told me. Blimey, I thought.
I got to the trike area and I waited for more than 15 minutes for people to fill up the whole trike. Beside me was a a guy, probably aged 25 or so, carrying loads of bread and vegtables, which pretty much filled up the whole space leaving me with zero leg area.
After the bumpy trike ride, I went to ride the next trike, which took another 10 minutes to fill up. This time, a female sat beside me. She was sort of slouching and sitting diagonally taking up a lot of space (I can't really describe her position, just think of her occupying a bigger area of the seat we were supposed to share). I was annoyed but I just let it pass. I didn't let it ruin my day.
I reached Sucat road and started to inhale all the pollution and smoke and all that jazz. I wasn't sure which jeep to ride, I just got on to this one that would pass by the airport. I kept a watchful eye for the landmark, a Burger Machine stall, wishing that there aren't too many Burger Machines along the road.
Finally, I reached the venue, all sweaty and haggard. Good thing I was early for my talk so i had the time to freshen up and relax at the dining area. Then all of a sudden it hits me. I will be leaving for Davao early in the morning tomorrow and I still haven't got my poster printed. I said to myself I will have it printed after my talk. I even asked my friend Sy to come with me to Southmall because I know Microcadd has a branch there. Or so I think they do.
After the talk, I told Sy I will just go home to get the file from my computer. Since I don't have a USB flash drive and an extra CDR, I planned to just save it in my mp3 player. I got home and did the finishing touches on my poster. I checked the directory to look up for Microcadd's Southmall branch's number, but it appears that there is no such thing. No Southmall branch. I checked the time, it was around 1 pm.
I decided to just go to SM Manila where I am sure there is a Microcadd branch. All of a sudden, Dad had this idea that there is at least one poster printer in Festivall Mall. He said it's nearer to Paranaque, so I don't have to go very far just to get my poster printed.
We went strolling around Festi to look for the poster printer he suggested, but there isn't any. Then I said we should check out ATC since we are already in the area. But then parking is a real trouble there, plus it's a Sunday. All the parking spaces were full. Dad can't just go round and round till I am finished with the printing. So I told him I know this place in BF where I could have the poster printed but I am just not sure if they are open on Sundays.
And no, they're not. So we went home like losers at around 5 pm.
I had no choice but to go to SM Manila. Dad offered to drive me there but I said I could just take the LRT. After an hour, I arrived at SM Manila, and I went staight to Microcadd. I figured I still have a couple of hours to go back to the retreat to attend the closing ceremonies.
The Microcadd guy was kind enough to attend to me right away. He plugged in my mp3 player, but it is not responding.
Microcadd guy:
Ma'am di po gumagana USB nyo.
Me:
(Looked at the screen) Gumagana yan, nagcha-charge yung battery eh.
Microcadd guy:
Hindi po talaga, ayaw ma-read.
Me:
(Kinda annoyed) Patingin...
Suddenly I felt like breaking down. He's right. My mp3 player wasn't responding. It won't restart.
Nag-hang
, as what they say.
I had no choice but to wait for the battery to be drained. Trouble is, that would take a whole day because I charged it full last night. I only have 3 hours left before the mall closes down.
I phoned up my mom, asking her to come to SM Manila and bring a copy of the file. I asked my sister to buy a blank CD and burn the file. Good thing dad didn't drive me to SM, because he would kill me if I tell him that we need to go back to Paranaque, get the file, and then head back to SM.
I waited for more than an hour. I was starting to get worried. I still want to go back to the retreat, I haven't packed my bags yet, and my poster was not yet printed. I went to the Department Store to kill time, and I bought some toiletries I will bring with me to Davao.
Finally, Dad texts me. It was him who brought my file. We met at the top floor and I rushed to Microcadd, which was full of people that time. It took around another hour before my poster got printed and believe me, seeing that poster come out of the printer is the most wonderful feeling I've had for weeks.
I mean, after all the poster preparations, the abstracts, the write-ups and the exams all due at the same time, this is it. This is finally it. I have the poster in my hands. Gosh, I want to throw a party right now. Except I can't do that yet because I still have a take home Environmetal Chemistry exam due on Tuesday.
Right now, I'm waiting for Emar to arrive. She will stay here for the night and we'll go to the airport together (since I live near the airport) later at 4 am. I started packing up, but I thought I'll blog first then do it later.
Imagine all the trouble I had to go through just to go to Davao... gosh, it's about to end. I can imagine the durians. The pomelos. The Philippine eagle.
Davao is waiting for me!